Mesa Amphitheatre Information
Mesa Amphitheatre draws in concert goers from a music loving public numbering in the millions. It is located only 15 minutes from downtown Phoenix and provides an open air concert venue that has also seen use for festivals, multi-day celebrations, and community events. It is proudly owned and operated by the City of Mesa Parks, Recreation and Community Facilities Department and it hosts many awesome concerts and events per year with room for nearly 5,000 music lovers to attend.
Opened in 1979, and unchanged since its original design, the Mesa Amphitheater is an outdooor venue with the capacity to seat 4,950 people – now a hugely popular destination for touring acts small and big! A hugely diverse range of performers have stood on the Mesa Amphitheater stage since it's opening, acts including The xx, Muse, Rob Zombie, Flogging Molly and Creed just to name a few recents!!
Known for its fantastic central location, just 15 minutes from downtown Phoenix, the open air concert venue is an enormously popular site for festivals and concert events. With its tiered lawn, the Mesa Amphitheater offers a fantastic view of the stage from every seat, is big enough for massive acts, but intimate enough for an up-close and personal experience for everybody attending!
The venue provides plenty of snacks and refreshments, and disabled access is available – please contact the venue prior to arriving for any assistance.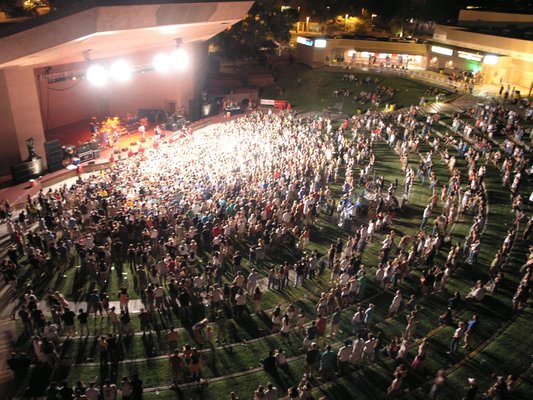 What's It Like At Mesa Amphitheater
But what is it like when you're sitting on the lawn watching big name bands and musicians rock out? First, let's talk about the venue's design.
When the venue first opened in the 1970s it had a cool and cozy atmosphere that quickly became popular with music lovers. It presented a relaxing venue for everyone to relax and enjoy their time listening to music during steamy summers and refreshing autumns. This atmosphere has been maintained ever since opening night, which has given it a homey feel that is relaxing and classic.
As you can guess, this appeals to the regular patrons who are warm, receptive, and welcoming of fellow music lovers whether they are locals or hail from nearby states and cities. There's plenty of drink stations and restrooms are clean and plentiful. The staff on-site are also trained in positivity which helps create an energetic and happy vibe. And that energy reaches the stage because of the intimate design making for some of the most explosive concerts to come to Arizona.