Mesa Amphitheatre | Mesa, Arizona
A killer early holiday gift, fans of all things dark and heavy gather for the Trinity Of Terror Tour: Black Veil Brides, Motionless In White & Ice Nine Kills come to Mesa Amphitheater on Thursday, March 17th, 2022. Featuring this unholy triumvirate for the very first time, you get to see all three bands on stage in one night, grab some tickets now, sacrifice to the gods of rock, and make sure all your black outfits are truly dark enough.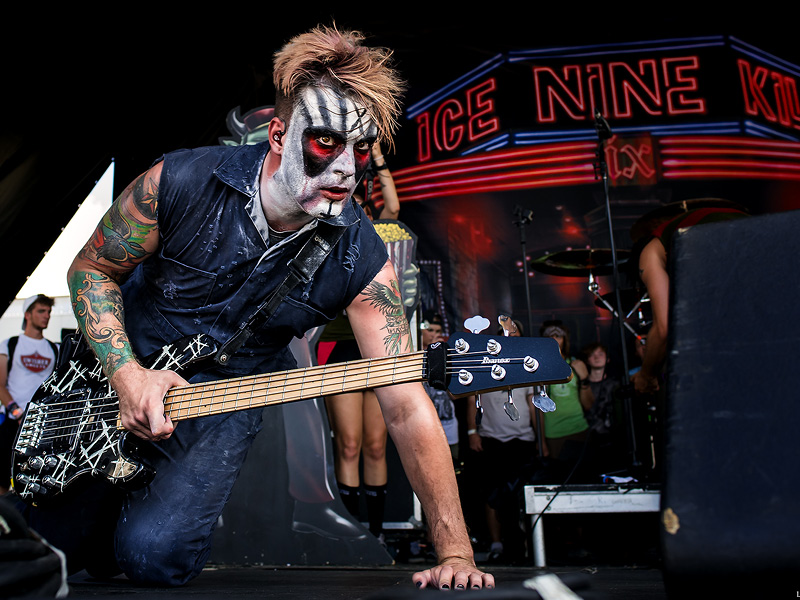 Black Veil Brides' latest album, The Phantom Tomorrow, was released in October, it is their sixth studio album and most ambitious to date. The Rock Opera Concept album draws inspiration from their previous releases, Wretched And Divine: The Story Of The Wild Ones and Vale. From Hollywood, California, Black Veil Brides is lead vocalist Andy Biersack, rhythm guitarist and violinist Jinxx, lead guitarist Jake Pitts, drummer Christian "CC" Coma and bassist Lonny Eagleton.
Motionless In White's last LP was, Disguise, from way back in 2019, but fans have their latest single "Timebomb" to tide them over in the meantime. From Scranton, Pennsylvania, and formed in 2005, Motionless In White consists of lead singer Chris "Motionless" Cerulli, lead guitarist Ryan Sitkowski, rythim guitarist Ricky "Horror" Olson, drummer Vinny Mauro, and bassist Justin Morrow.
As for Ice Nine Kills, their most recent album, The Silver Scream 2: Welcome To Horrorwood, was released in October, and is the follow-up to, The Silver Scream, from 2018. The new part sees the band taking their storytelling abilities to the next level. From Boston, Massachusetts, Ice Nine Kills were formed in 2000 and is composed of co-lead singers and guitarists Spencer Charnas and Ricky Armellino, singer and bassist Joe Occhiuti, singer and lead guitarist Dan Sugarman, and drummer Patrick Galante.