Mesa Amphitheatre | Mesa, Arizona
EVENT CANCELLED. Please contact your ticket point of purchase to claim a refund on your tickets.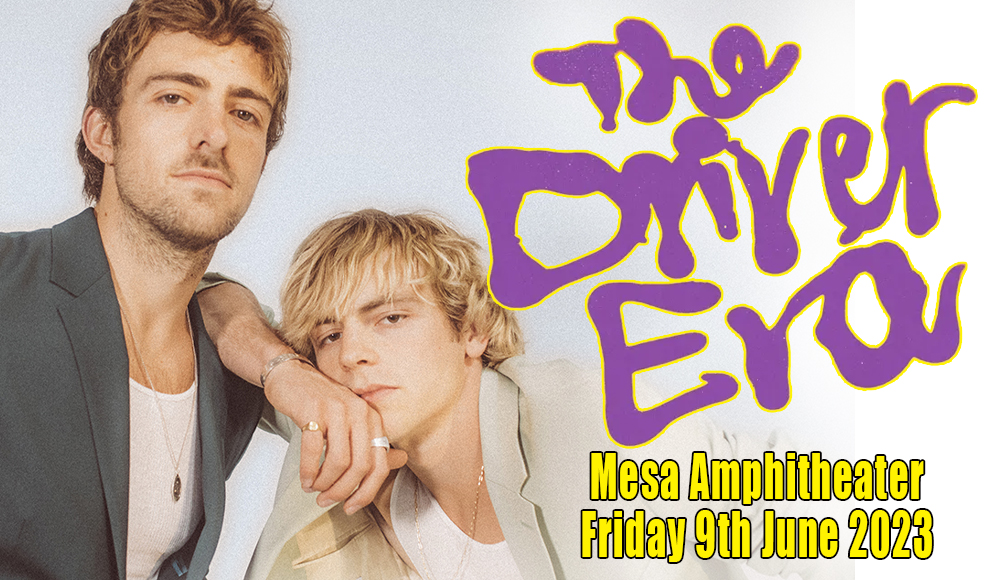 It's time to mark that destination as THE DRIVER ERA drifts the stage at Mesa Amphitheater on Friday, 9th of June 2023 for the Never Ending Summer Concert Series. Brothers Rocky and Ross Lynch are taking their fan-favorite hits and never-ending summer beats off of "Summer Mixtape" to the big stage, in the hottest way possible, celebrating the summer heat. As 'fantasy takes the driver's seat at the Never Ending Summer Concert Series, don't miss out on The Driver Era's hottest hits live on stage with Rocky and Ross Lynch by booking your tickets now!
Yep, that Ross Lynch everyone grew up with from their Disney days to the Ross Lynch from the Netflix series "The Chilling Adventures of Sabrina", the man's also a musician, with sexy tracks as his forte. With his brother Rocky, the duo takes their musical genius to life as The Driver Era, steering acclaimed live shows that ooze with the duo's talent, charm, and lyrical maturity. Releasing their third studio album "Summer Mixtape" last September 2022, The Driver Era isn't taking a break from never-ending summer shows with the Never Ending Summer Concert Series.
The Driver Era follows the conclusion of the pop-rock R5 run, and the brothers took a leap of faith to create their own signature blend of music. Releasing their debut single "Preacher Man", off of their debut album "X", in 2018, the world soon found itself turning its heads toward the duo's unique pop energy. A few more singles later as the duo grew its fanbase, The Driver Era released its sophomore record "Girlfriend" in 2021.
"For the first time, we are writing and producing everything we do," Ross shared in an interview with FLAUNT about "X". "We are making music for ourselves, making music we want to hear. We aren't confusing ourselves with other peoples' opinions."
"When I look at these songs it feels like a reflection of our past few years," Rocky shared with FLAUNT upon the release of "Girlfriend". "It's us living life and writing about it and telling our story and our different viewpoints on things. It's about how we've gone about our mid-20s."
With songs that speak depth of stories and emotion, The Driver Era never fails to navigate new perspectives in every record released. With acclaimed concert performances, the duo never fails to create meaningful connections with their listeners. "We write the songs hoping fans can relate to them," Ross added. "That's what we're striving for – a connection between us and our listeners."
After going viral for some videos of the duo's sensual live performances, The Driver Era's third album, Summer Mixtape, proves that the duo isn't just about pretty faces, but pretty darn good music. Beyond writing relatable hits, the duo also largely produced and mixed their studio records.
Reflecting on today's trend when it comes to viral music, "We have to try hard to stay true to ourselves and our expression," Ross shared in an interview with Alternative Press. "it is a decision for us to be like, "No, actually we're going to do this raw mixtape that feels authentic to us," even though a lot of our team and immediate peers didn't really understand the mixtape"
Driven by inspiration and true emotion, Rocky and Ross encapsulate what it means to be authentic musicians whose music speaks for itself. Beyond viral shirtless videos and hot nights, feeling the moment is what drives The Driver Era to continue steering the wheel of authentic music.
"The first video that went viral, I was just feeling it. It was authentic," Ross shared, explaining that he wants to continue being intentional with what he does, by feeling the moment. "I think why it went viral was because it was of the moment."
"Summer Mixtape" features the duo's new hard-hitters "Keep Moving Forward" featuring Nikka Costa, "Malibu", and "Fantasy".
Don't miss out on The Driver Era's Never Ending Summer Concert Series at Mesa Amphitheater by booking your tickets now!