Mesa Amphitheatre | Mesa, Arizona
Country music group Midland is set to warp the airwaves with their signature neotraditional country, Texas country, and country rock-infused sound since their debut in 2017 with their hit single "Drinkin' Problem". Since then, the trio amassed a loyal following for their ear-catching blending of country voices. Midland is hitting the stage at Mesa Amphitheater on Saturday, October 29th, 2022. Earlier this year, they dropped their third studio record "The Last Resort: Greetings From" featuring their singles "Sunrise Tells the Story" and "Longneck Way to Go" (with Jon Pardi). With a new chapter for Midland, the boys are set to soar greater heights – definitely not simply as a last resort, but as the beginning of greater milestones.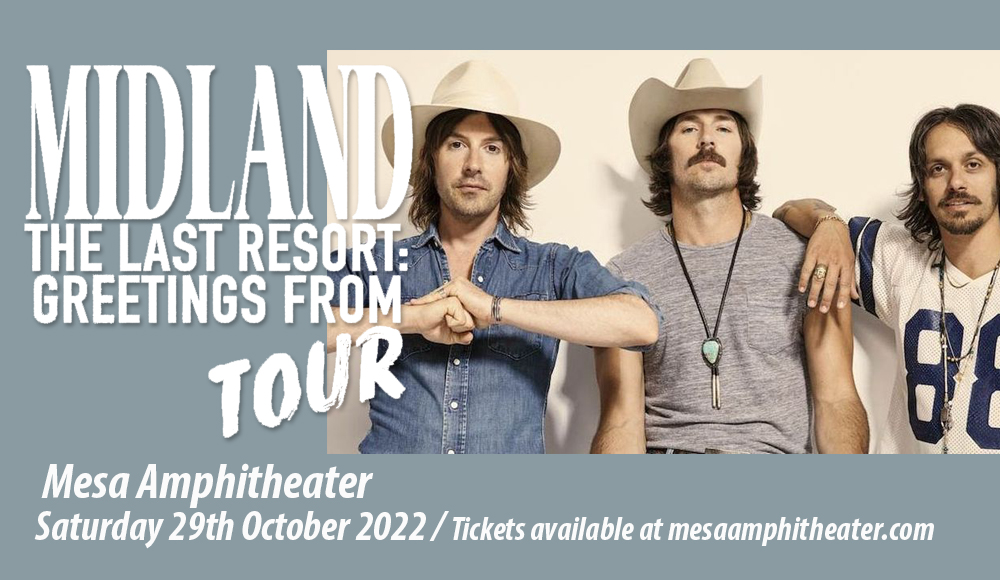 Formed in Dripping Springs in Texas, Midland dropped their debut album "On the Rocks" in September of 2017. The album peaked in the top 20 of the Billboard 200, with its hit single "Drinkin' Problem" bagging a 2x Platinum certification from the RIAA. Since then, Midland emerged as Country music's next big thing for their neotraditional take on country music.
The boys bagged two Grammy nominations in 2018 for Best Country Song and Best Country Duo/Group Performance, both for their song "Drinkin' Problem".
Their 2019 sophomore album "Let It Roll" hit #1 on the Top Country Albums chart, and #16 on the Billboard 200. The record features their hits "Mr. Lonely" and "Cheatin' Songs".
In May of 2022, Midland took country fans by storm, releasing their third studio record named The Last Resort: Greetings From. The album features their new singles "Sunrise Tells the Story" and "Longneck Way to Go" with Jon Pardi.
Band members include Mark Wystrach, Jess Carson, and Cameron Duddy who all together create an astounding blend of country vocals to tracks that exude a dose of traditional country that fans can't get enough of.
Priding themselves as a touring band, Midland's fanbase just keeps getting bigger and bigger, and their music even better. "We pride ourselves on being a touring band," Wystrach told Billboard. "It almost feels like a country Grateful Dead, in a way. There are people that will follow us on tour, and they'll hit every single show, just tailgating. I think it's really important for them to have us back, and live music back."
With the return of concert tours across the country and a big new album to mark a new era for Midland, the three fine men are set to serve a show that definitely won't disappoint at Mesa Amphitheater this October 29th. Book those tickets now!