Mesa Amphitheatre | Mesa, Arizona
The country's hottest electronic music improviser, Marc Ribellet, has won the hearts of fans around the globe for his quirky and humorous improvised tracks from his bedroom – or hotel rooms that take on topics ranging from sex to eating snacks. The 'Loop Daddy' is hitting the stage live at Mesa Amphitheater on Wednesday, 2nd of November 2022. Wearing his boxers covered by a silky robe, Marc Ribillet stuns the crowd as he lays his finger on his mixer and starts improvising musical and lyrical genius at the request of fans. His beats take a range of different genres, hence giving him the title of Loop Daddy. So, don't miss out on Ribellet – or Loop Daddy's big live stage return by booking your tickets now!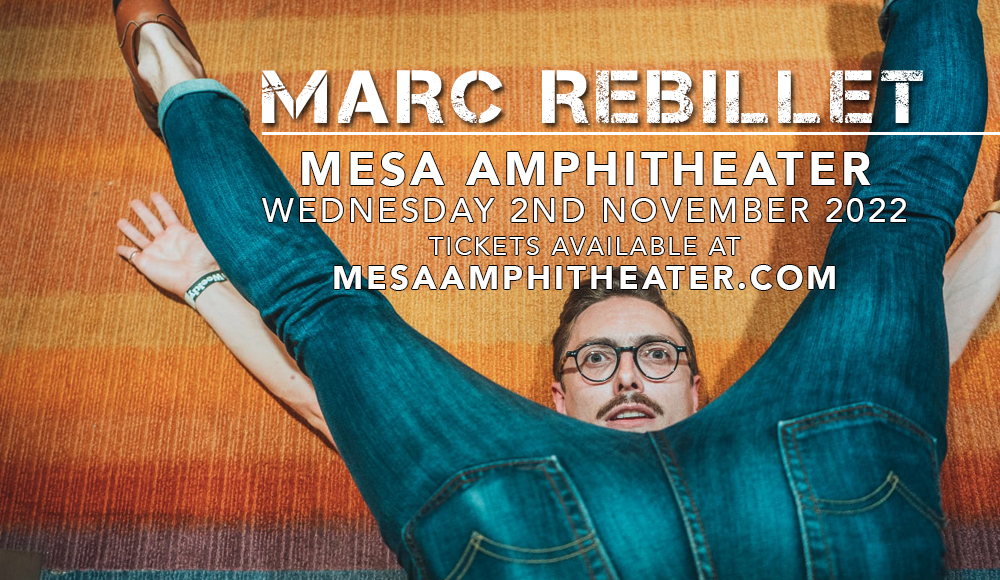 Known for his unique, quirky, and amusing electronic and lyrical improvisation, Marc Ribellet traces the roots of his musical success when he started posting YouTube videos and live streams where he improvises songs in his bedroom and different hotel rooms in 2016. Dancing in his boxers and singing humorous lyrics, Ribellet became viral on Reddit and Facebook where he amassed a slew of new fans. Since then, he continued his signature improvisation sessions, with live requests from fans. His streams cover musical content that ranges from romance, sex, and anything under the sun such as topics on eating food.
The man has over two million subscribers on YouTube, with over a hundred twenty million accumulated views on his videos.
"It happened very, very quickly…the whole online thing just took off in this very aggressive way. Like, people around the world just started sharing my stuff on Facebook primarily, and my audience on Facebook went from 7,000 or 10,000 followers to, within a week or two, 50,000. Then it was 100,000. And it just kept climbing! And with that spike came all of these booking requests from all over the world…" he told Central Track.
On his live shows, the man brings his signature gear – a keyboard, his loop station, and his signature silk robe that sets the mood for a perfect melodic and lyrical session with the one and only Marc Ribellet. Since 2017, Ribellet has been performing in various venues and moved to New York to take his career to the next level.
In 2019, Billboard hailed the man as a "Billboard Dance Emerging Artist" for his "sexy hooks up his silky sleeves…" and "his productions ranging from sensual R&B burners to hip-hop-tinged funk creations." In 2020, Clubbing TV gave Marc Ribellet the 2nd place spot on their top 40 live streaming DJs list.
Though amassing a huge fan base for his quirky and humorous lyrical charm, Ribellet expressed that he does indeed take music seriously and takes further steps to develop his craft. "The music is the main concern. It needs to sound good in order for me to be able to do anything remotely funny over it." Ribellet shared in an interview with The Red Bulletin. "I think over the years my stuff has become less shock-value shit. It's less like goofy comedy and more refined, I hope. There are a lot of serious messages in there now, and I hope the music sounds a little better than it did a few years ago."
The man with his keyboard and looping station, on his signature boxer briefs and robe outfit combination, is set to continue bringing his craft that never fails to exude positive energy among listeners and the live crowd on his shows. So, don't miss out on the one and only Marc Ribellet performing live at the Mesa Amphitheater this November 2 by grabbing your tickets now!