Mesa Amphitheatre | Mesa, Arizona
Known for their global sound, the unique psych-funk trio named after the Thai word for "airplane", Khruangbin, is set to soar right back up as they continue their tour with a stop at Mesa Amphitheater on Saturday, October 1st, 2022. They're set to play their fans' favorite songs, as well as hinting songs they haven't played in almost two years. With a sound combined from influences around the globe, their tracks ooze influences of Thai funk, East Asian pop, American R&B and soul, Jamaican dub reggae, and more that create a distinct characteristic that only Khruangbin has. Don't miss out on the band's one-of-a-kind sonic concert experiences by booking your tickets now!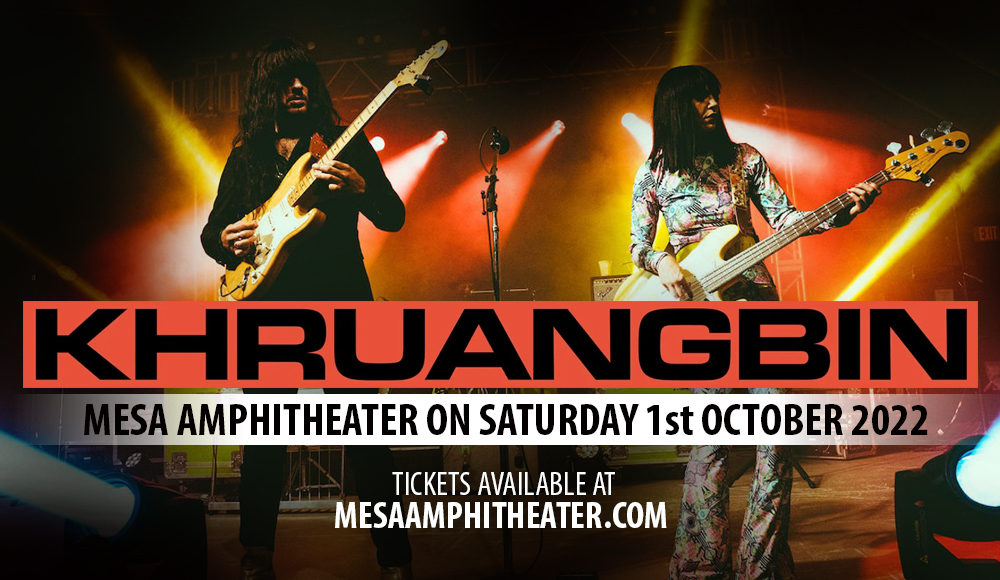 The Houston-based psych-rock act hasn't played a show in about a year, and hasn't had the opportunity to bring songs from their 2020 record "Mordechai" to life on stage yet. Well, it's all about to change as Khruangbin heads right back on tour from where they left off to bring crowd-favorite global influence-infused tracks to life and perform songs off of their newest album for the first time live.
"We had to come back after 600 days of not playing a show and, for the first time, play songs that we've never played before, not to mention songs we haven't played in almost two years," said bassist and vocalist Laura Lee.
Though hailing from Houston, one isn't fronted with expectations of a sound of country or Texas blues in their veins. Khruangbin takes it to another level combining Thai funk, Middle East pop, Jamaican dub reggae, R&B, and a touch of soul that all create a distinctive sound and character that fans across the globe have grown to love.
The band has expressed that they don't intend to copy or replicate a sound, but be influenced by these global sounds to create a unique offering for listeners – and fans have surely been blessed with Khruangbin's craft.
"We want to be able to go to Thailand and Ethiopia one day, play our songs and have them make a connection with the people there — that they can hear their music, but it's not a copy," said Lee in an interview with Source Weekly. "We're trying to create something unique and part of that is it can't be just one thing. With 'Mordechai,' we were trying to pull in everything, as much as we could."
The band released their third album, Mordechai, last June of 2020 and are yet to perform tracks that fans haven't heard live yet. The album features their singles "Time (You and I)", "So We Won't Forget", "Pelota", and "One to Remember".
Band member who gave life to the persona of Khruangbin are bassist and vocalist Laura Lee, guitarist and vocalist Mark Speer, and drummer, keyboardist, and vocalist Donald "DJ" Johnson. When the three were about to play their first gig, Laura was learning Thai at the time and decided that they take the name "Khruangbin", her favorite Thai word meaning "airplane". The name symbolizes their unique take on drawing international influences that shaped who they are as a band.
Set to take off on tour, Khruangbin is set to soar even higher as they are greeted by a growing fanbase and a positive impact for their sound that brings listeners a global listening sensation, and it gets even better on their live shows. So, catch the one and only Khruangbin perform their best hits and new tracks off of Mordechai live on stage by booking your tickets now!