Mesa Amphitheatre | Mesa, Arizona
IRON BOY Presents IRON BOY 57! At Mesa Amphitheatre in Mesa, AZ on Saturday, November 20th, 2021. Grab some tickets and get down here to get your fists stuck in! Tonight, IRON BOY will be showcasing some of the best local and international talents, with fights from Thomas Valdez, Ryan Riddell, Elias El Terraza, Alexis Ortega, Deiniel Santiago, and Fabian Montes among others.
The main event of the evening will feature Thomas Valdez (19-3, 8 KOs) facing off against the undefeated Phoenix native Trini Ochoa (10-0, 5 KOs).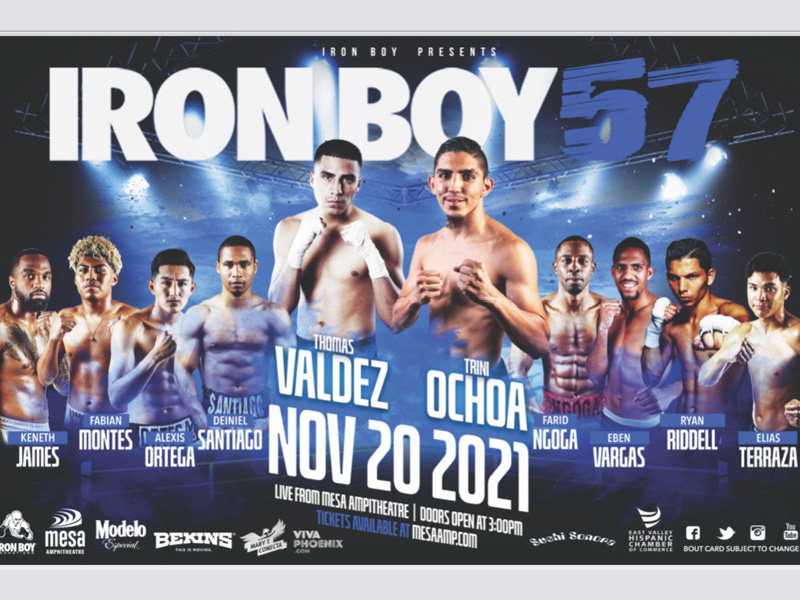 All the way from Tucson, Arizona, at 5′ 10″ or 178 cm tall and fighting at Super Featherweight division, "Tommy" Thomas Nadid Valdez with a boxing record of 19 wins, 3 loss and 2 draws. He has won 8 bouts by knocking out his opponent. His last fight was September 6, 2019, where he defeated Daniel Armando Valenzuela who had a 36-38-2 boxing record at that time, by Technical Knockout. Valdez is the cousin of current WBC super featherweight titleholder Oscar Valdez.
From right here in Mesa, Arizona, at 5′ 8″ or 173 cm tall and fighting at Welterweight division, Trini Francisco, II Ochoa with a boxing record of 10 wins, 0 loss and 0 draws, winning 5 fights by Knockout. His last fight was June 26th, 2021, where he defeated Antonio Sanchez in a 6 Round Referee Decision
IRON BOY is Arizona's Leader in Professional MMA and Premiere Boxing Promotional Company since 2012. Being the first Arizona Based Promotion company to produce both MMA and Boxing events in the Valley.