Mesa Amphitheatre | Mesa, Arizona
Get the SoCal vibe in this neck of the woods as your best-loved ska punk and alternative groups have hit the road and are on their way here at Mesa Amphitheater on Thursday 7th October 2021. If Sublime With Rome is your top of mind, then you're absolutely correct. The band has enjoyed nothing but "Blessings" from their followers who have remained steadfast and loyal over the years, hence the title of their latest album released in 2019. And now godspeed with this tour that would take them to key cities and states where fans are now quickly grabbing tickets to the show. But in here, the need for speed is in clicking that Get Tickets sign you see on this website. Get your tickets now!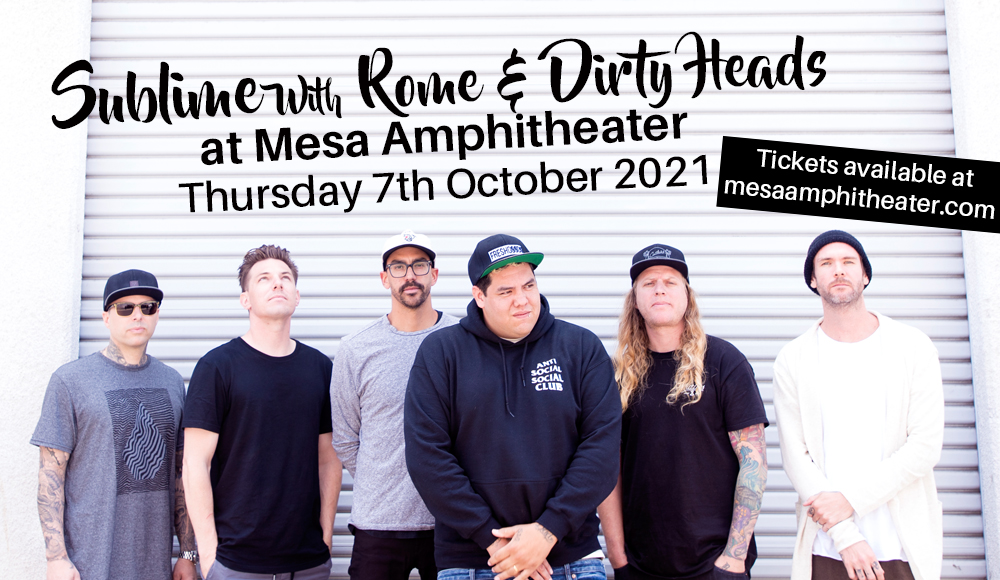 Sublime with Rome is a musical fusion of Eric Wilson, formerly of the American ska punk band Sublime, and singer and guitarist Rome Ramirez. . During the 90s, Sublime has sold over 17 million albums worldwide and was raking in hits until the untimely demise of frontman Bradley Nowell. Wilson carried on with the legacy and picking up where Sublime left off, pursued creating and releasing singles and albums and touring as Sublime with Rome.
Sublime with Rome is currently a trio, with Rome Ramirez on lead-vocals and guitar, Eric Wilson on bass, and Carlos Verdugo on drums. Their latest album 'Blessings' has spawned the hit singles WICKED HEART and LIGHT ON.
The band's repertoire and tour playlist is never without the singable, crowd-favorite Sublime hits like "Wrong Way," "Santeria," "Badfish," "What I Got," "Caress Me Down," "40oz to Freedom" and many more.
Co-headlining with Sublime with Rome on this tour are Dirty Heads, a hip-hop, reggae, and rock along group from Huntington Beach.
As with longtime Sublime fans who have stuck it out and continue their undying support to this day for Sublime with Rome, Eric Wilson shares that same passion to carry on with the music. "I'm able play music for the love of music, just like I did back then. I am so fortunate to still be able to do it," he said.
Kick off your shoes and laze in the laid-back SoCal sound of Sublime with Rome. But you can do that once you've got yourself tickets to the show, and that's when you have to act fast. Book your tickets now!