Mesa Amphitheatre | Mesa, Arizona
The boys who snatched hearts around the globe singing 'Oh, my heart hurts so good, I love you, babe, so bad, so bad, oh' is back to spread the love at LANY's Summer Forever Tour. Acclaimed as "primed to reshape pop music's zeitgeist" by Bandwagon Asia, LANY has given listeners cheeky earworms from heart-fluttering to heart-wrenching hits since the release of "ILYSB". Last year, the band dropped their fourth album "gg bb xx" – a testament to LANY's maturity and growth since their bedroom pop debut. Though recently, the band announced keyboardist Les Priest's departure citing "to focus on life as a writer/producer in Nashville." as to why. Though carrying on as a duo, LANY is set to continue serving dream-like shows at the Summer Forever Tour stopping by at Mesa Amphitheater on Friday, September 9th, 2022. Book your tickets now!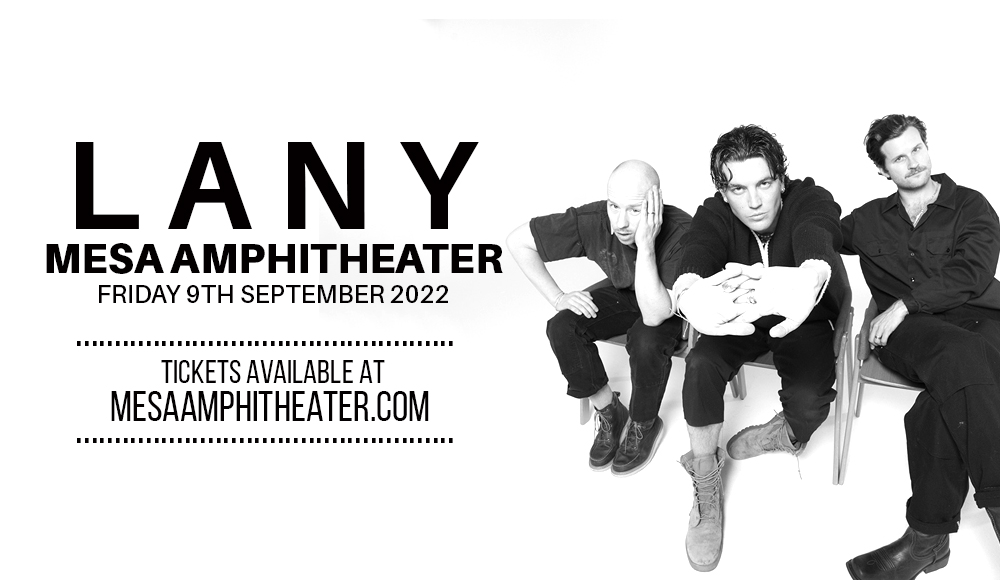 From L.A. to New York, LANY is actually rooted in Nashville when Paul Klein met up with Jake Goss and Les Priest. Though their influence didn't just stay from L.A. to N.Y.. Soon after the release of their anonymous first singles "Hot Lights" and "Walk Away", LANY found themselves taking over the global stage with their single "ILYSB" amassing new listeners, and going to on tours with various acts including John Mayer, Ellie Goulding, Twin Shadow, and Troye Sivan.
LANY has also produced hit collaborations with Lauv on "Mean It", "Okay" with Julia Michaels, "I Quit Drinking" with Kelsea Ballerini, and "Stupid Feelings" with 220 Kid.
Singing 'Made in Hollywood in 2014, LANY found themselves 'super far, performing at their first arena show in the Philippines, selling all tickets out just after twenty-four hours in April of 2018, prompting them to stay for a second night. A year later, LANY went back to the pearl of the orient to perform for three sold-out nights in Manila.
In October of 2018, LANY dropped their highly anticipated sophomore album "Malibu Nights". The record featured heart-wrenching hits "Thru These Tears", "I Don't Wanna Love You Anymore", and "Malibu Nights".
At the onset of the global pandemic, LANY revealed their then-upcoming album "Mama's Boy". Their third studio record was released on October of 2020. It featured its lead single "Good Guys". Almost a year after their 2020 album, the boys dropped another big surprise – "gg bb xx", the band's fourth record in September of 2021. It features "Dancing in the Kitchen", "Stupid Feelings" with 220 Kid, and "Roll Over Baby".
Keyboardist Les Priest left LANY in April of 2022 "to focus on life as a writer/producer in Nashville.", pursuing a 'new chapter'.
From a bedroom pop indie act next door, LANY propelled to become a global act set to redefine pop music with their bright and shiny tunes, at the same time sliding in some tear-jerkers in the roster. Fans have also been drawn to the dreamlike aesthetic and vibe that they bring to life in their music videos and live shows. Catch LANY at the Sumer Forever Tour by grabbing your tickets now!