Mesa Amphitheatre | Mesa, Arizona
Indie alternative rock band, Katastro's remaining members are bringing "Kamp Fest", a loving homage to the life of their frontman Andy J. Chaves. Katastro will be the main headliner act, who will perform with a little help from Andy's closest friends as guest vocalists. "Kamp Fest" is happening at the Mesa Amphitheater on Saturday 4th February 2023. Andy's signature voice with Katastro will live on in the hearts, minds, and spirits of fans. Celebrate and honor his life and music. Tickets are now on sale so book your seats with a click on the 'get tickets' link on this site. Save the date and secure your seats now!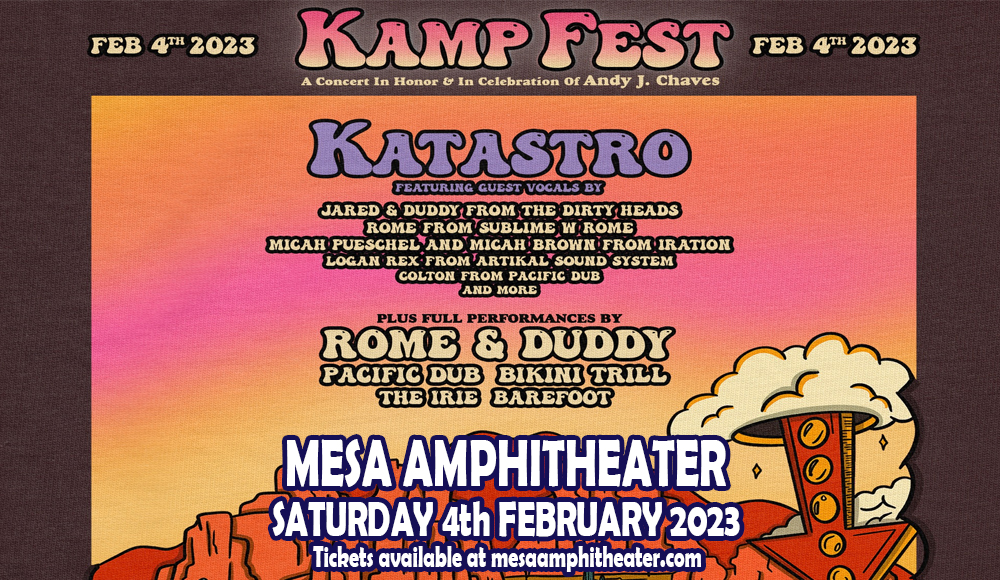 Andy J. Chaves' tragic and unexpected passing in 2022 ensued an outpouring range of emotions — from disbelief to heartbreak to sorrow, expressed by his multitude of fans via social media. Chaves is the enigmatic lead singer of the alt-rock band Katastro, formed in 2007, in Tempe, Arizona. Lead vocalist, Andy Chaves who was then a rapper with the moniker Andy J, joined high school friends Andrew Stravers, Tanner Riccio, Ryan Krebs, and Kenny to form the band.
Katastro made its mark in the local and national rock music scene through extensive live performances. They shared the stage with iconic bands such as 311, Awolnation, Dirty Heads, New Politics, Tomorrows Bad Seeds, Pacific Dub and Passafire, and many more. Insanely good and notorious for their mind-blowing blending of elements of rock, funk, blues, and hip hop, Katastro also channeled these energies into exemplary body of work which includes EPS – "The Wonderful Daze", "The Facts" plus full-length studio albums – "Poking Holes in A Pattern", "Gentle Predator", and many more.
And as Katastro's career was on an upward trajectory, Andy's life was cut short by a vehicular accident which left the band and their fans devasted by this tragic loss.
"Even though you don't know somebody super close, you still have a connection with them through their music and their lyrics, so it was really heartbreaking not just for the community and for his family and band, but for the music community in general. This is a huge loss," said Mo, a midday host with Phoenix radio station KDKB-FM 93.3FM.
"Kamp Fest" is a celebration of Andy's life and music. Katastro will lead the pack of musicians and fans who will honor and revel in their timeless and unforgettable music. Don't miss it, book your tickets now!